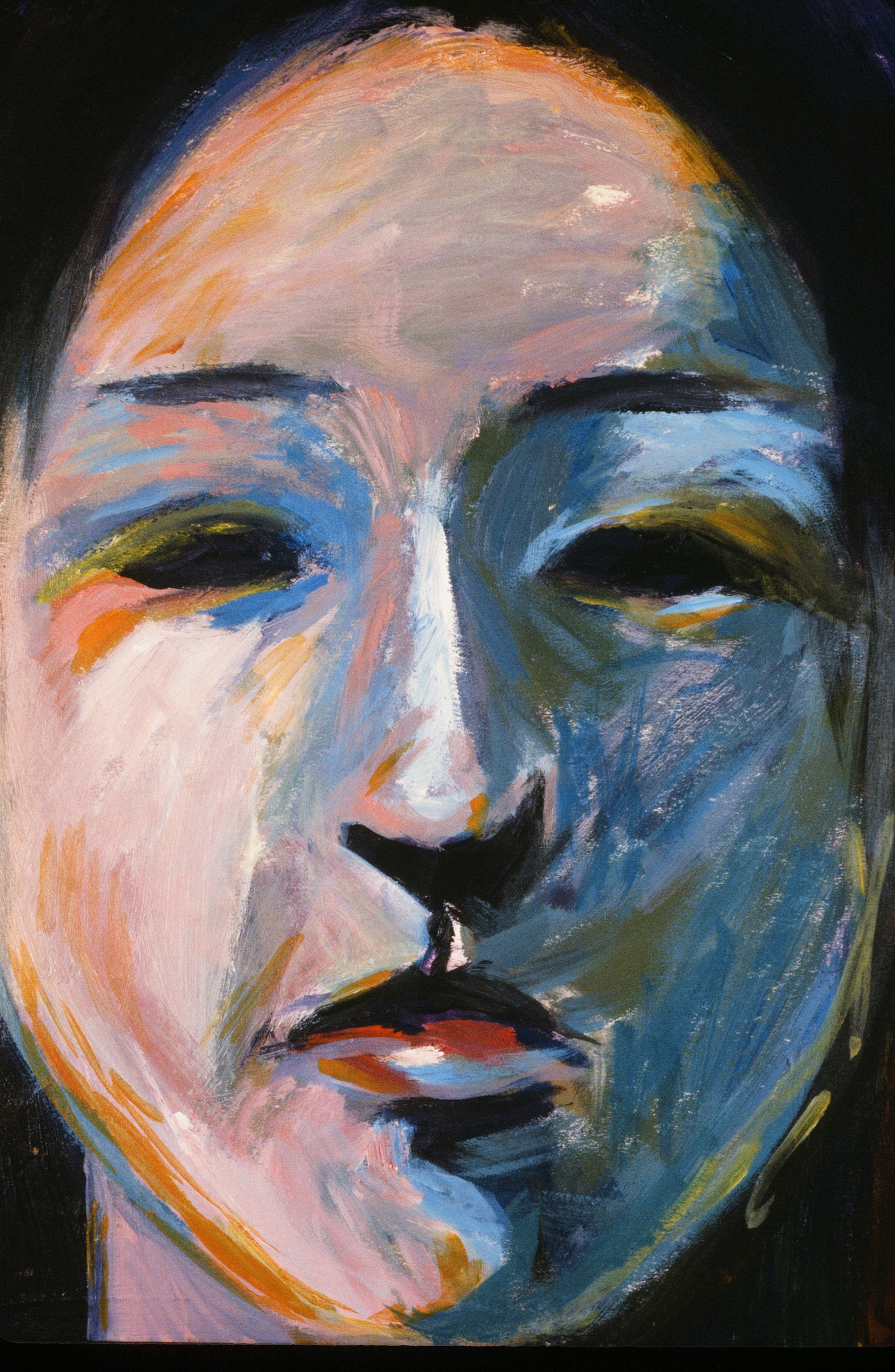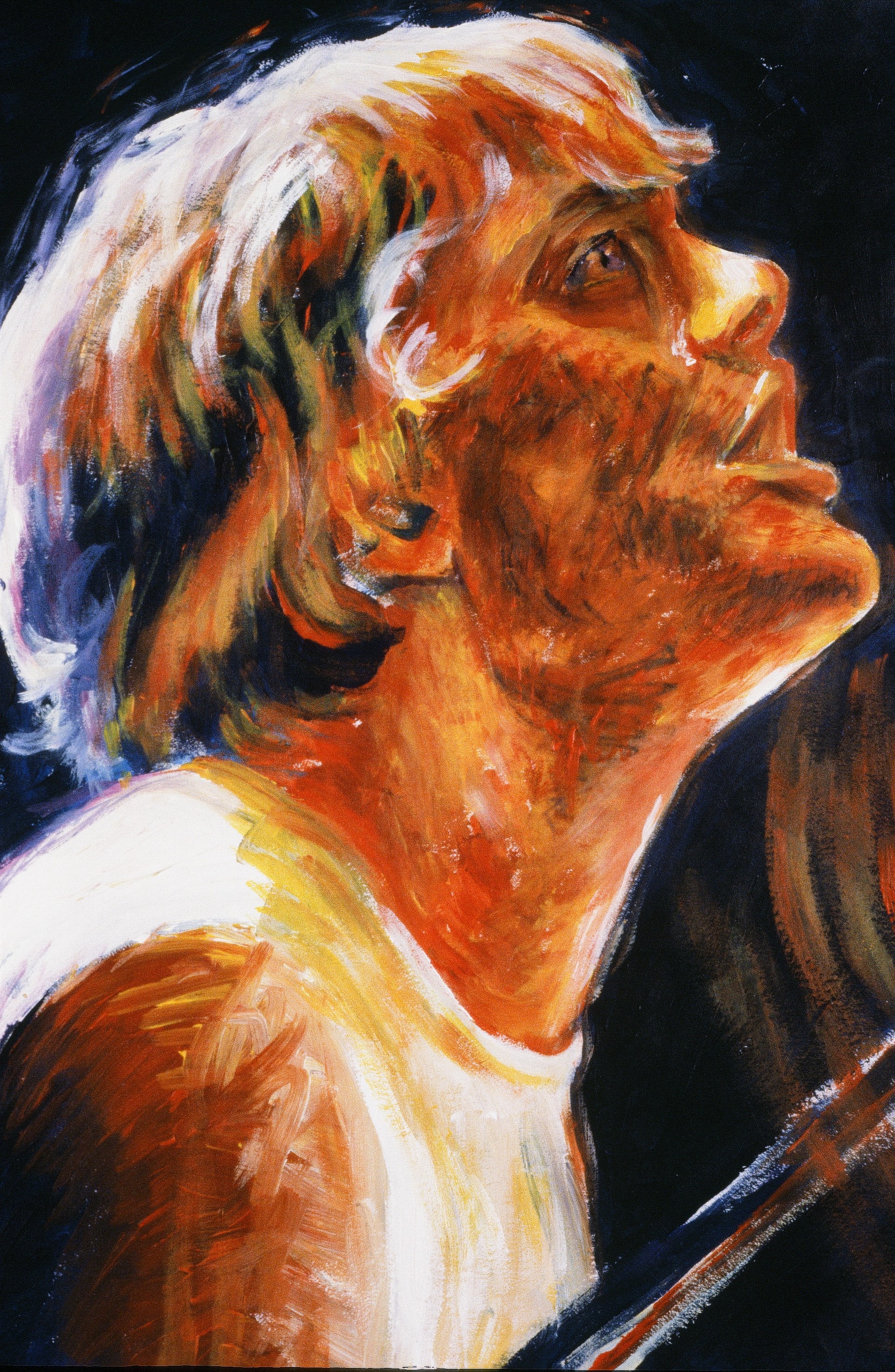 Victoria Fu
Viewing these artworks again is like seeing old friends. I may not remember details about how I made them, but I definitely remember each piece intimately. Most of them were made in my high school AP Art class, and a few were from extracurricular art things: one piece was from a Saturday non-profit program through USC called Ryman Arts; another from the Marie Walsh Sharpe summer program in Colorado Springs; another was from the California State Summer School for the Arts at CalArts. This work was all made within a year of each other.
Scale was a big deal to me at the time, so the really long, vertical piece that was more than person-height is something I remember being proud of, being able to loosen up. I still tend to overwork things, and I get very tight towards photo-realistic representation. So I remember the struggle to loosen up, and I remember trying on a bunch of different styles. Working on that big scale let me use my whole arm and body to paint, as opposed to the small muscles of the hand. It was also an experiment with color because I took the image from a magazine, where it had normal colors, and I was trying to get more expressionistic.
In the portraits, getting the features down realistically was what I enjoyed doing the most. That was the skill and the trick, so to speak. I was pretty confident that I could render something photo-realistically. That was in my back pocket already, and may be why I got into art in the first place: my parents were like, "Oh, she can copy things! Let's send her to art classes."
The struggle that I remember is to try on a bunch of different styles, but really the hardest thing was for me to loosen up.
My ideas at the time were very influenced and shaped by my high school art teacher. She was really trying to stretch us out, trying on different styles like they were clothes. We did Fauvist-inspired projects, Cubist still lives, and there's that reduction project that turns Mondrian-esque in the final step. I was in love with Diebenkorn paintings at the time, and so I was trying to abstract the figure, reduce something representational or figurative, and also inject some kind of personal expression into it. So that was the paradigm we were working with, and concept-wise--I guess I wasn't really there yet. I would find images to copy, and then I would try to abstract them by loosening up so I could get expressionistic marks, consciously thinking about idiosyncratic mark-making...
There's the piece that I painted on cardboard of the room with a red floor. That was painted at the summer program at CalArts, where it felt liberating to be away from home and school, and to have these new friends. They had giant pump bottles of acrylic paint that you put on paper plates, so I had all this paint at my disposal--imagine that, never-ending paint! Having a whole different set of resources available to me produced different paintings; having a completely different experience than the high school art classroom translated into different artmaking, which was such a valuable thing at that age. Just the fact that I was painting on cardboard was kind of fun, and ephemeral, and I was working outside of the high school structure--that amounts a spiritual loosening up in addition to a technical one, so I am fond of that piece for that reason. I took more liberties with the composition; it was an amalgamation of several photographs, including one from an old family album. We tend to be kind of pigeonholed or stuck in our everyday routines in school. The world can be a little bigger than our high school class.
But there's also something worthwhile about a structured experience. I'm so grateful to my high school art teacher–I'm still in touch with her, and I don't know where I'd be without that foundation. All those exercises...she provided a lot of rigor and art historical framework. It's an important time for not knowing what you're doing, and having someone help you along with a structured environment is a gift, as is having some outlets and opportunities to break out of it.
We tend to be kind of pigeonholed or stuck in our everyday routines in school. The world can be a little bigger than your high school class.
I didn't end up going to art school. I majored in art history, but I was making art all along. I always took classes. I forayed into photo, digital animation and such. I still took painting classes, but I found it was just a huge jump somehow, going from high school to college painting classes, and I remember thinking it wasn't a good match. I just didn't know where to go with it. I felt like I was dead-ending, and looking back maybe that's because I didn't know about more conceptual, contemporary art. But then I took some really great art history classes that introduced me to just that, and more. It took studying contemporary art history to make me find other inroads into making art, if that makes sense. I was just starting to be aware of my own identity politics but didn't yet have the language or reference to let that be my expression through content. It was a slow burn; it didn't happen in a day. I took this Feminist Art Legacies course with Pamela M. Lee at Stanford that was hugely eye-opening, and we went and saw shows in San Francisco, learned about Cindy Sherman, Catherine Opie, Lyle Ashton Harris, Claude Cahun, Mierle Laderman Ukeles, etc. There was one course called Object after Minimalism that blew my mind in a way that, say, my Abstract Expressionism class, which was also excellent, didn't--it didn't change anything about my thinking, nor did it obviously reflect on a political reality that included race and gender.
After graduating I went to USC for an M.A. in Museum Studies, and for that program we curated a contemporary art show with eleven artists, and we started driving all over LA to go to people's studios, and that was when I discovered, 'Oh, these are living artists, this is what they're doing, here's the gallery system, these are their studios, they sell work.' Learning about contemporary art, learning the diversity of approaches, and also the possibility that you could be a living, working artist – it became real.
With regard to the portraits done during high school that are not self-portraits, I had no connection to the subjects and didn't know them as people; they were either live models or images taken from magazines, advertisements and packaging--pre-internet, of course. I realized later that I liked working with "the image" as a subject--I mean, that's exactly what I do now with images sourced from the internet collaged with my own images and backgrounds. It's about the image, more of a cold reflection about the life of the image or an arrangement of images. There's one piece here that's riffing on Rosenquist, a whole collage of stuff, including the Quaker Oats guy, a J. Crew model from the catalogue, Mott's applesauce labels, Corn Flakes--and that's kind of what I do now. I don't think I was ever interested in expressing anguish, or sorrow, or some diaristic expression, but rather was starting to think about all these things as image culture. It took me a very, very long time to get there, but looking at it now, I can see it.
Victoria Fu is a visual artist who received her MFA from CalArts, MA in Art History/Museum Studies from University of Southern California, and BA from Stanford University. She attended the Whitney Independent Study Program and was in residence at Skowhegan School of Painting & Sculpture in 2006. Her art installations have been exhibited in recent solos at Honor Fraser Gallery, Los Angeles, CA; The Contemporary, Baltimore, MD; Simon Preston Gallery, New York, NY; and University Art Gallery at UC Irvine, CA. Recent group venues include the 2014 Whitney Biennial at the Whitney Museum of American Art, New York, NY; Museum of Contemporary Art San Diego, La Jolla, CA; 52nd New York Film Festival, New York, NY; IX Nicaragua Biennial, Managua, Nicaragua; among others. Fu is a 2013-14 Art Matters Foundation Grantee and 2015 Guggenheim Fellow. She co-organized the 2015 conference Touching the Screen at the University of Oslo. Fu lives and works in Los Angeles, and is represented by Simon Preston Gallery and Honor Fraser.