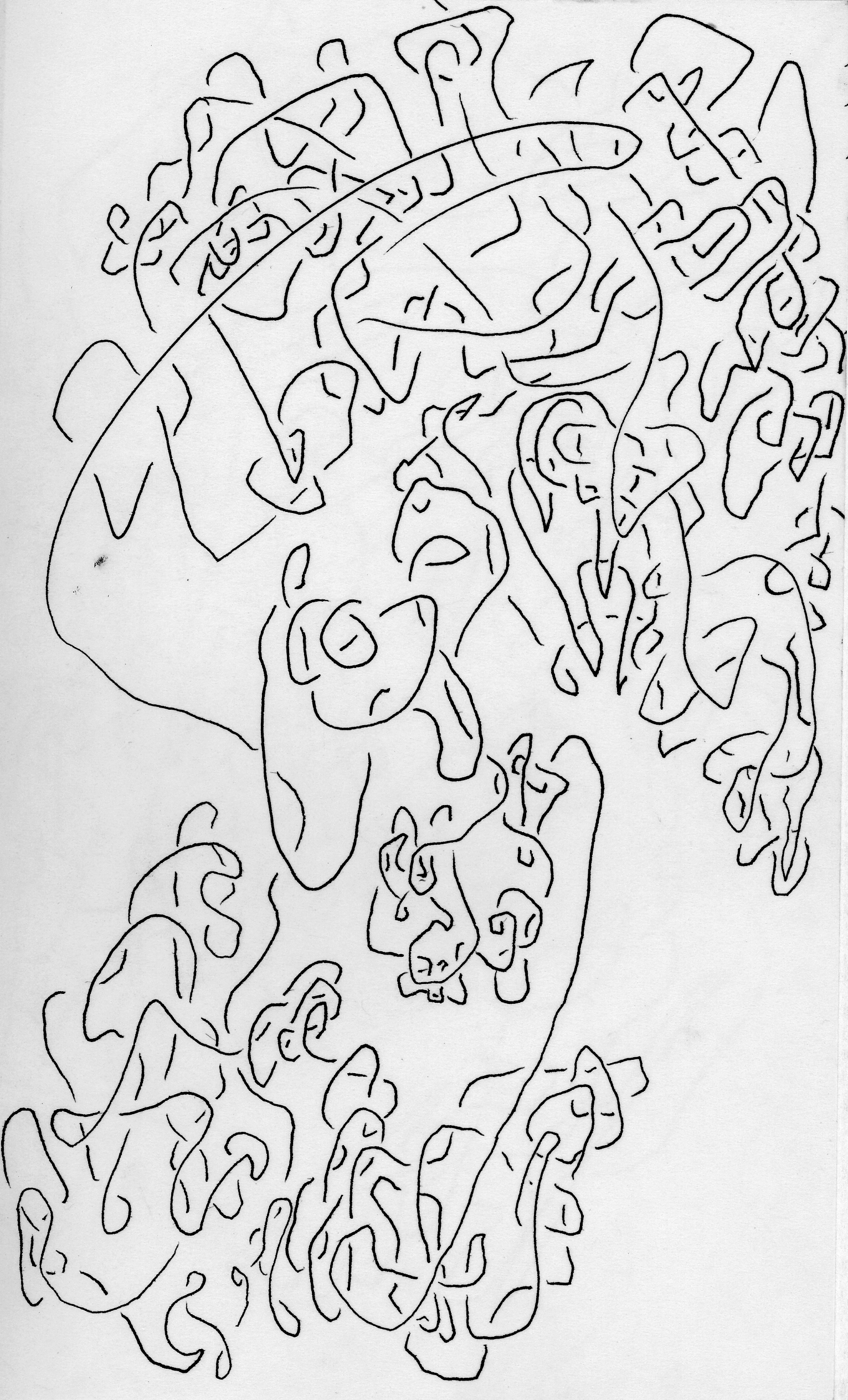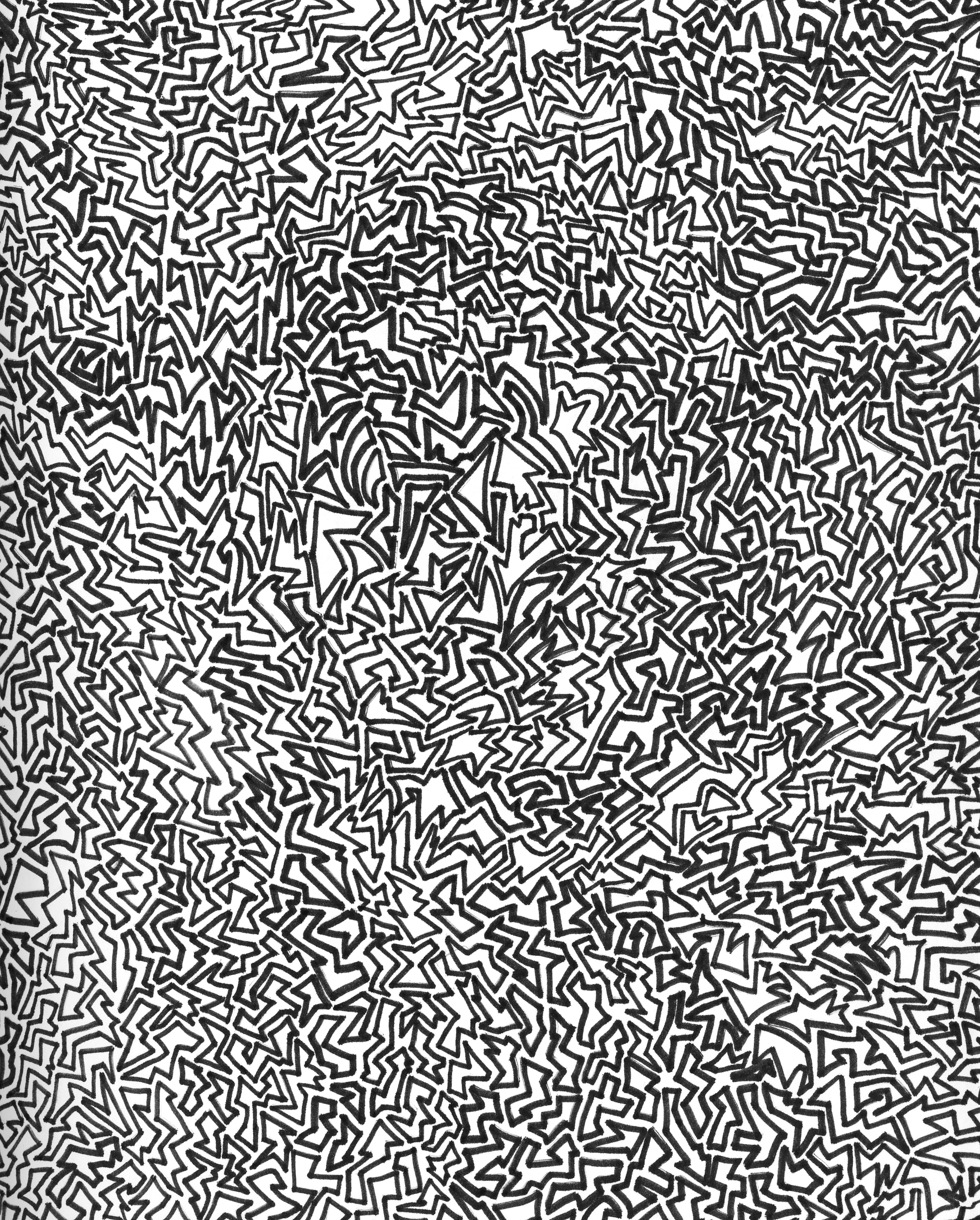 Tom DesLongchamp
I was pretty into drawing and painting in high school. I remember wanting to get good at drawing the figure, but I was also really influenced by graffiti. I never had the courage to really deface things, but I remember practicing graffiti in my sketchbook. So when it came to painting I had this traditional idea, like that I wanted to just be a good painter, but then I also wanted to be able to do that colorful, edgy, graffiti style too.
Once I went to a concert and my friends and I were dancing and it was just this really fun memory, so I wanted to paint it. The painting is actually just three versions of me in different dance moves, with very saturated colors. They're kind of strange – they're not very naturalistic, they're more illustrative. I painted my made-up graffiti tag with this oil paint on the lower left side of the painting, and it's kind of awkward and heavy-handed. It's funny because I suck at typography, and all my graffiti friends were really good at it. So it's kind of embarrassing, but it was important to me.
Being an artist meant making good drawings -- making every page good.
I would get sketchbooks and I would feel very reverent of them and would do a few careful drawings for the first few pages. I wanted it to feel intentional and good and be consistent, and that was a lot of pressure. But it's fun at first because you're trying to rise to the challenge of making beautiful things. I remember doing really intense drawings for the first two or three pages, but by the fourth page, I'd be like, oh, I don't have any good ideas, I can't really maintain the level of detail that I started – I can't bang those out every day! It's funny because the idea of sketching is to experiment and not make it perfect or finished, but that was thrown out the window for me. To me, being an artist at that time meant making good drawings -- making every page good. The fallout of that is that I would end up not getting back to the sketchbook. I have a handful of sketchbooks from my younger years where three quarters of the sketchbook is empty. I would feel a little bit of shame about that, and failure, like I just don't have what it takes to be a real artist because I can't keep doing this.
Once I was in drawing class and I got bored of drawing the still life that I was drawing, and I decided to just make marks, but to pretend like I was drawing -- to feel I was drawing something but without actually referencing anything. And I hit this magical stride where my hand was moving and I just kept adding to it, and I looked at the drawing and thought, okay, this drawing isn't of anything, but I really like the way it feels, and it feels like a drawing to me. It feels – not necessarily finished, but it feels like I'm on to something with this, and I don't know what it is. And I remember I was so excited, I looked over at this girl that was nearby, and I was like, "look at this! I'm drawing but I'm not drawing anything, but doesn't it kind of look like something?" And she looked at me and was like, shrug. I didn't want that to happen when I drew something, I wanted to impress people and I wanted people to get it.
I drew a couple self-portraits that were not very good, but I could see myself in them. I could see this weird truth, even though it's not perfect. That was the spark that I fell in love with, and that's actually still happening now with my portraits.
The first time I knew I wanted to become an artist was when I studied van Gogh's work and life when I was in middle school. There was, for me, this brutal awakening of what it means to work as an artist. Artists can be stubborn and lonely, but there's also this unrelenting pursuit to be in love with what you're doing and to believe that it's the most important thing that you could be doing with your time. After that I started to take being an artist seriously. I started doing self-portraits looking in the mirror, and that was huge for me. I drew a couple self-portraits that were not very good, but I could see myself in them. I could see truth in it – it was this weird truth, even though it's not perfect. That was the spark that I fell in love with, and that's actually still happening now with my portraits. When I draw anyone, I'm after this sense of truth and reality, but without it being a hard-lined realism kind of thing. It has to feel like their essence, while accommodating mistakes and variance. I still get obsessed with realism and with making things perfect, but it's in those moments that I'm missing the point, I think. Sometimes you can just be a slave to the taskmaster of realism, as opposed to drawing something because it's magical to draw it.
I was not excited to go to college. I almost didn't apply to any school, but my art teacher gave me the brochures for SVA and RISD and other east coast schools and said, "you should apply. You should at least try." She helped me shoot my portfolio. I only applied to RISD, and got in miraculously. There was this pressure at RISD to impress people. In my drawing class there was one guy that tried to cover an entire wall with these really big drawings. And I tried to do two sheets but it was only required to do one. Trying to go big or go home. But then I took Alfred DeCredico's drawing class, and he was notorious for being mean and ruthless, and also being non-objective, so you were discouraged from drawing anything representational. I went into his class with a whole plan to not talk to him unless he wanted to talk to me, and to follow his direction. I decided, I'm going to just listen to what he says and do as much work as I possibly can, and those were my rules. Those rules worked really well! I had so much fun and he really liked my work and was encouraging to me. When you're faced with this tornado of a man and you come out of it feeling really good, it's amazing. In my final critique, he said some things that I still carry with me. He had specific drawing assignments: you have to make a drawing this big, and you have to do it this way, you have to comprise it from different pieces, things like that. And whatever materials you use, you have to try to use them in new ways. So in the end we had to do 25 drawings that were each pushing materials in different ways. I still have those drawings and I love them, but no one else loves them. I feel weird about showing them – I don't know if they're mine or if it's the work that I make when I'm in Alfred's class.
You should try everything, but go back to the things that you love, and keep iterating on the things that feed you.
Beautiful things can happen when you're allowed to play. When you're truly playing, great things happen because you're unconscious and you just see a possibility and want to see it out. And sometimes you're just like, this isn't going to end up being anything, but I just want to do it right now. And there's that immediacy of, I just need to do this because it'll be funny or it'll be interesting, but I don't need to share it, I'll just do it. Maybe I'll keep it or maybe I'll throw it away, who cares? But then you finish it and you're like, holy crap, I love this. And then the next time you're trying to chase that playful feeling, but then sometimes you fall into the pitfall of trying to copy what you did without playing.
I don't feel like I had any shortage of encouragement to play as an artist in school, it's more about being able to trust that. And empowering people to make their own discoveries of things that they like and not to be ashamed of them. I remember wanting to draw faces but feeling pressure to be better at other things. I know now that it's okay to relentlessly draw faces and paint portraits. That could be your thing, you could do that, but you could also try drawing that landscape and those buildings. You can get wrapped up in convincing yourself that you need to like something that you hate doing, but you can also realize, wait, I can do more of that thing that makes me feel relief when I do it. You should try everything, but go back to the things that you love, and keep iterating on the things that feed you.
Tom DesLongchamp was born in Seattle, Washington, a few miles from the Sea-tac Airport. He attended college at Rhode Island School of Design, where he earned his BFA in Film/Animation/Video.
He is currently sole proprietor of TOMTHINKS, LLC and works in his home studio in Seattle, creating portraits and animations. Clients include Taco Bell, MTV, PopTV, Quickbooks, University of Washington Press, LINE Global, Brooks Running, and Asthmatic Kitty Records.
Tom is married to designer/Illustrator Jessica Phoenix and has two cats: Roscoe and Reuben.