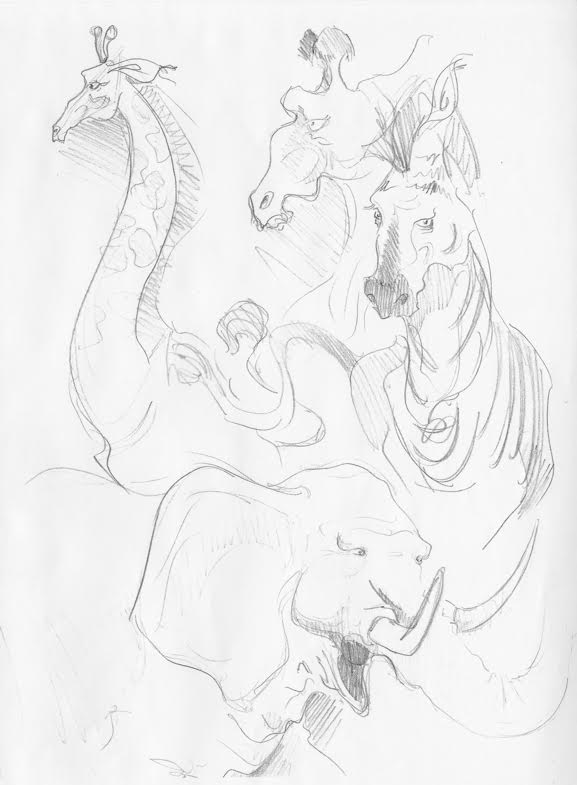 Peter Brown
I remember vividly making that Opus sketch. I was in Berkeley, California visiting my brother, and I went to a bookstore and bought this Berkeley Breathed Opus picture book, and it had really beautifully rendered forest scenes and things. I loved the book, and I did a pencil rendering of one of the scenes. I was probably fifteen, maybe sixteen. I copied a lot of stuff then, especially Disney characters. I had this great book called The Illusion of Life, about the history of Disney animation, and I just loved it. It's filled with the character designs and pictures of the maquettes of the characters, and color studies. It was just beautiful artwork. Part of it was the sense of history – they had such a long history of making beautiful films. Serious, grown people were making cartoons! These were world class artists who had devoted their lives to making animated films, and they were gorgeous. This book talked about the process of making these movies. It showed all the behind the scenes stuff, and the sense of freedom and imagination that these artists lived in was so appealing to me. Getting to invent characters, bring them to life, bring stories to life, moving pictures, the whole thing. It felt like magic. I sound like a spokesperson for Disney, but it really was what I was feeling at the time. I'd stay up at night and read this book before I'd go to bed and I'd be drawing the seven dwarves before going to sleep at night. It was the craziest thing. Something clicked, and I'm glad it did, because it propelled me on the path that eventually took me to kids' books. I think I found that book when I was in ninth grade and it just changed my life, because it was so clear that this was what I wanted to do – telling stories with art and characters. So I just copied those characters all the time, whether it was from the book itself, or from movies. I wish I had more of them left. I know I did quite a bit of that.
I think I found that book when I was in ninth grade and it just changed my life, because it was so clear that this was what I wanted to do – telling stories with art and characters.
I also had this collection of drawings I'd gotten from Disney, about the kind of portfolios they were looking for when they're hiring artists. It was before you could find this information online, so it was this whole packet that they send. It has all the art schools they recruit from heavily, as well as the kinds of artwork that they want to see in portfolios. I felt like my drawings were not as good as theirs but I could still see a path to getting there. I could imagine myself, after four years of art school, being as good at drawing from life as the drawings I was seeing in this Disney sample portfolio. It was really great to get that information. It was all life drawing, basically. Some of it was character drawing, cartoony – but most of it was just animal drawings from the zoo. So I started going to the Philadelphia Zoo all the time and drawing zoo animals. I would go to the farms near me and draw horses and cows, and I knew a couple of farmers who had pigs, and they would let me into the stalls to draw pigs. I drew my friend Mike's dog Charlotte. I would just draw any animal I could find. I liked those drawings, I was really proud of those drawings at the time, so I think they burned into my brain. But all this seemed relevant to getting into a career in animation.
I really wanted to go to CalArts, which is known for their animation program, and that was the one art school I didn't get into. But I got into Art Center, which is a school I didn't think I'd get into. But Art Center doesn't have an animation program. The counselor I met with said, well, you'll want to study illustration, but you can have a focus in animation, and you can kind of make the major be what you want it to be. That's what I went to Art Center thinking I would do – an illustration major, but I thought I would focus in animation. And what happened was, when I got there I fell in love with illustration. I realized I didn't want to do the same repetitive thing over and over, like in animation. I took animation classes outside of Art Center, extracurricular classes to get a feel, and was like, nope. I'd rather tell stories with characters that are completely under my control and not quite as mind-numbingly repetitive as in animation. I took a children's book class and I was like, well, that's what I'm going to do. That was easy. I mean, it wasn't easy, but it was quick. All of a sudden I pivoted. I think of my picture books as little short films, and I'm the director and the costume designer, lighting – the whole thing. But I think of them as little short films. There's a lot of crossover between animation and children's books.
I took a children's book class and I was like, well, that's what I'm going to do. That was easy. I mean, it wasn't easy, but it was quick. All of a sudden I pivoted.
Looking back, I think I could have tried to expand the kind of art I was looking at in high school. These days, my art evolves a lot because I'll find a new movement in history and suddenly I'm really inspired by Indian court painting or something, and I'll do that for a little while, experimenting. Some of it works its way into my permanent style, and some of it doesn't. And it's really a fun process to feel like I have so much control over my own style and way of doing things. But I wish I'd started that process at a younger age. I feel like I'm still sort of searching for my artistic voice, in a way, and I feel like I could have gotten further down the path if I had known enough to look up other artists. Some of my favorite artists now are midcentury illustrators, and I wish I'd stumbled upon their stuff earlier because I would have gotten to this point earlier, and moved beyond it earlier. When I compare my work to some of my contemporaries, I feel like some of them have such a unique style, maybe even at a younger age than me, and why is it that some people just kind of know what their artistic voice is, they find it early, and some don't? And I feel like I'm on my path, I'm finding it, I'm getting there, but it would have been nice to start earlier in my life. I could have, there was nothing stopping me. But in high school, who wants to look at kids' books? That seems like something babies look at. If somebody had sat me down and said, but look at how beautiful the artwork is in Leonard Wiseguard's illustrations, I would have been like, damn, you're right. I would have paid closer attention.
Peter Brown has always loved using words and pictures to tell stories. His love of visual storytelling led him to study illustration at Art Center College of Design. And when he took his first children's book class he knew that he'd found his calling. Since then Peter has published over a dozen books for children. His books have earned him numerous honors, including a Caldecott Honor, a Horn Book Award, two E.B. White Awards, a New York Times Best Illustrated Book award and five NY Times Bestsellers. His titles include My Teacher Is a Monster! (No, I Am Not.), Mr. Tiger Goes Wild, Creepy Carrots!, Children Make Terrible Pets, and The Curious Garden. Peter's first novel for children, The Wild Robot, will be published in April of 2016.